Why it is important to run MacOS updates for your Apple computer
When you are comfortable using your iMac or MacBook and have become familiar with the MacOS, running MacOS updates it can be daunting.
You may wonder what the update will change, how it will affect your user experience or even, if it will affect the software you rely on or affect your data files.
However, it is important to update your Apple computer regularly as you will be storing up bigger problems for yourself in the future if you don't. That is because there will come a time when your iMac or MacBook will simply stop working properly!
A quick guide to recent MacOS updates
The most recent MacOS is Catalina. If you're not sure how old your MacOS is, take a quick look at this list of the last 10 MacOS names and release dates listed from newest to oldest.
| | |
| --- | --- |
| MacOS 10.15 'Catalina' | October 2019 |
| MacOS 10.14 'Mojave' | September 2018 |
| MacOS 10.13 'High Sierra' | September 2017 |
| MacOS 10.12 'Sierra' | September 2016 |
| OS X 10.11 'El Capitan' | September 2015 |
| OS X 10.10 'Yosemite' | October 2014 |
| OS X 10.9 'Mavericks' | October 2013 |
| OS X 10.8 'Mountain Lion' | July 2012 |
| OS X 10.7 'Lion' | July 2011 |
| OS X 10.6 'Snow Leopard' | August 2009 |
MacOS Names 2009-2020
The next update is due in October 2020 and will be MacOS 'Big Sur'.
To check what version of the MacOS you are currently running, click the Apple logo in the top left corner of your screen and choose 'About This Mac'.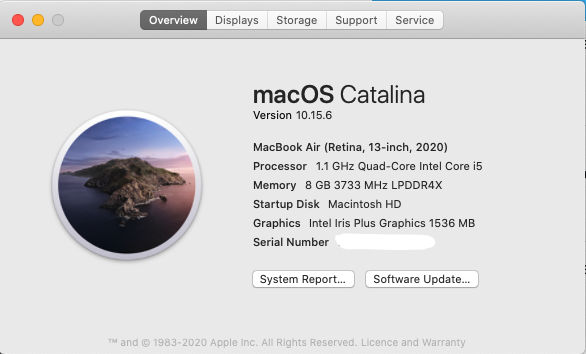 Apple trivia: Have you noticed that the MacOS updates are currently being named after locations in California? Before that they were named after big cats (but not the domestic pet variety). Yet Apple's 'in-house' release names are all types of wine.
The problem with relying on an old MacOS
Over recent months I have worked on a number of iMacs and MacBooks that clients are still running much older MacOS'. Believe it or not, some have been as old as MacOS X 10.8, 10.6 and some in the past have even older than that.
These are machines that have simply not has the MacOS updates run on a regular basis and as a result, their performance has suffered.
While it may feel unnerving to run a MacOS update that may change how your MacBook or iMac works, not doing so in the long run will become more painful.
When you update incrementally, fixes will be applied and changes will, in the main, be fairly small. However, when you leave it longer and have to make a bigger jump, the update will be more significant and you will only find out when you stop being able to send or receive email or your web-browser will no longer work with providers like Google, or even Apple themselves!
Depending on the age of the computer you are using, you may only be able to update to a certain point. However, when that happens, it doesn't necessarily mean you have lost all your data.
What to do if your MacBook or iMac can't be updated
It is inevitable that, at some point, your computer will need to be replaced with a newer model.
As technology progresses, new Operating System software will require certain specifications of hardware in order to work correctly. If your computer doesn't have that hardware inside, it will lose its functionality.
For example, you may be unable connect to your service provider to send or receive emails. Or you may find that certain software programmes just stop working.
Take a moment before you head for the nearest Apple store. Sadly, I've heard of people being told far too many times by Apple Computer staff (who, despite what you may think, are not data recovery experts) that, in most cases, they are able to connect to your drives' data.
Once the computer is too old for them to work with, you will be presented with their perception of the only solution; to buy a newer computer, or maybe a completely different style of Mac.
This can cause issues when it comes to transferring your original data files to a brand-new Mac running a completely different MacOS. This may lead the loss of many years of data, precious photos, videos, music, need I go on?!
Buying a brand-new machine may not be the best answer to this issue!
Meanwhile, some data recovery specialists may say they can copy all the data to a new drive that can be fitted to that latest MacOS and that will fix your problem.
This may also not be as sound advice as you may think. The software of your previous Mac was written at the same time the hardware was manufactured and therefore may require a transfer through various versions of MacOS X.
When this happens, it's time to speak to an expert you can trust for advice on how to recover and transfer your data, or what specification of computer you need to look for next. Some of the software on your previous Mac may not be available on a brand-new computer.
What specification do you really need?
If the time has come to purchase a new Apple computer, establishing what you really need, rather than what the salesperson wants you to buy, can save you hundreds of pounds and a lot of time.
The beauty of Apple computers is that they are very well built and even if your old one is beyond being updated; you may not need to go for a brand-new model to solve your problems.
Reconditioned computers are a great option for many customers. These can range from pre-loved machines that have been reset and reconditioned ready for use by a new owner, to brand new 'open box' stock that has been opened but not used and therefore cannot be returned for resale as a new machine, normally by Apple computers.
Buying the appropriate specification is another way to help your budget go further. Whilst the lure of the upgrades might be hard to resist, you can save a lot of money by choosing the right Mac specification for your current, and future requirements.
XMAC – an expert you can rely on
At XMAC we are dedicated to helping you to choose the right solution to meet your computer needs. As an independent Apple expert, we don't have sales targets to achieve and that means you get honest, impartial advice.
If it is economical and will offer longevity, we can help with upgrading your current machine so that you can continue to use it successfully.
When the time has come, and this is no longer a viable option you can rely on our impartial advice about the specification you really need in order to get the most from your budget. If you wish, we can often help source reconditioned or 'open box' machines for you as an alternative to buying new.
When you have made your purchase, if your current device is no longer working, we can help you to recover your files, music, photos, videos, and so on, and move them to your new machine, to get it set up ready for you to use as quickly as possible.
In need of advice about MacOS updates for your current MacBook or iMac
If you have a MacBook, iMac or other Apple model which you know hasn't been updated for a while, or is suffering from performance problems, please call 01420 538575 or email help@x-mac.co.uk and one of our Apple experts will be delighted to assist you.